OFFICES FOR THE COMPANIES OF THE FUTURE
The experience acquired by the ERRE arquitectura team after more than 25 years designing office spaces and corporate projects has allowed us to identify the challenges and problems that companies face today.
Throughout these years, our passion, dedication and knowledge in office and interior design have made us leaders in the sector.
With more than 120,000 square meters in office design projects, we have created a highly efficient system to address these challenges and offer customized solutions adapted to each type of company and client.
The WORKPLACE ERRE system is based on three key aspects for any company: FLEXIBILITY, COMFORT and TECHNOLOGY.
DO YOU WANT US TO HELP YOU CHANGE THE WORLD?
CONTACT US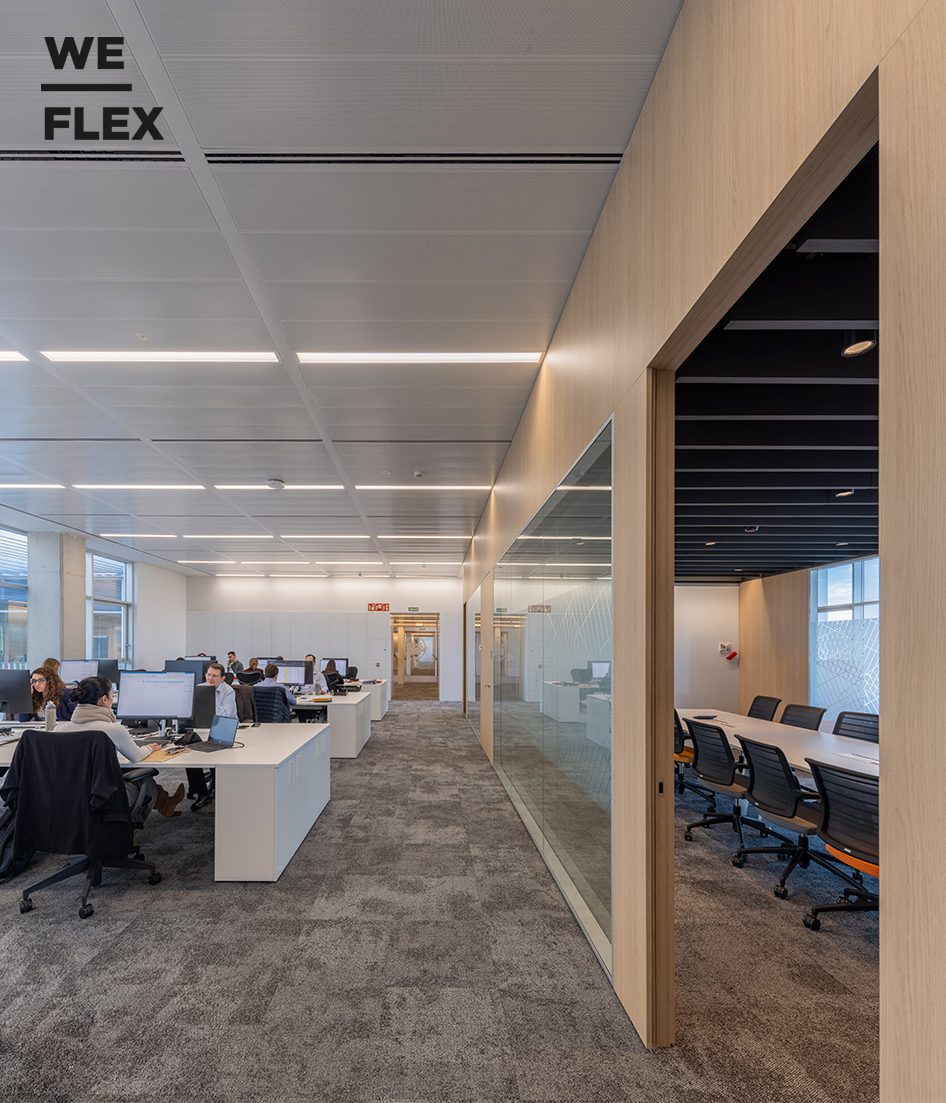 FLEXIBILITY
We study the current state of your company and workspaces by analyzing occupancy and mobility scenarios for each of the profiles. From there, we establish a model based on activity, creating an ecosystem of spaces adapted to each need.
Flexibility allows a company to adapt to new ways of working, such as remote work, flexible schedules and virtual teams. This provides greater agility and responsiveness to market demands.
Flexibility can facilitate collaboration between teams and the generation of creative ideas by allowing fluid interaction and teamwork, regardless of physical location.
This model allows us to optimize space and get the most out of every square meter, reducing costs per workstation, which are by far the most relevant within companies.
COMFORT
Labor cost is by far the most relevant cost within companies. Therefore, it is especially important to create a comfortable and healthy environment to increase job satisfaction and happiness at work, which in turn increases job satisfaction and contributes to a better working environment.
Office comfort is related to the health and well-being of employees. In addition, physical and psychological comfort lowers stress levels, reduces distractions and promotes concentration on tasks.
On the other hand, a comfortable and quality work environment can help attract new talent. Candidates value companies that care about the well-being of their employees. Elements such as light, movement, acoustics and the use of healthy materials help to create environments that not only attract talent, but also retain it.
Comfort in the office has a direct impact on the overall performance of the company. Satisfied, productive and healthy employees contribute to the success and growth of the organization.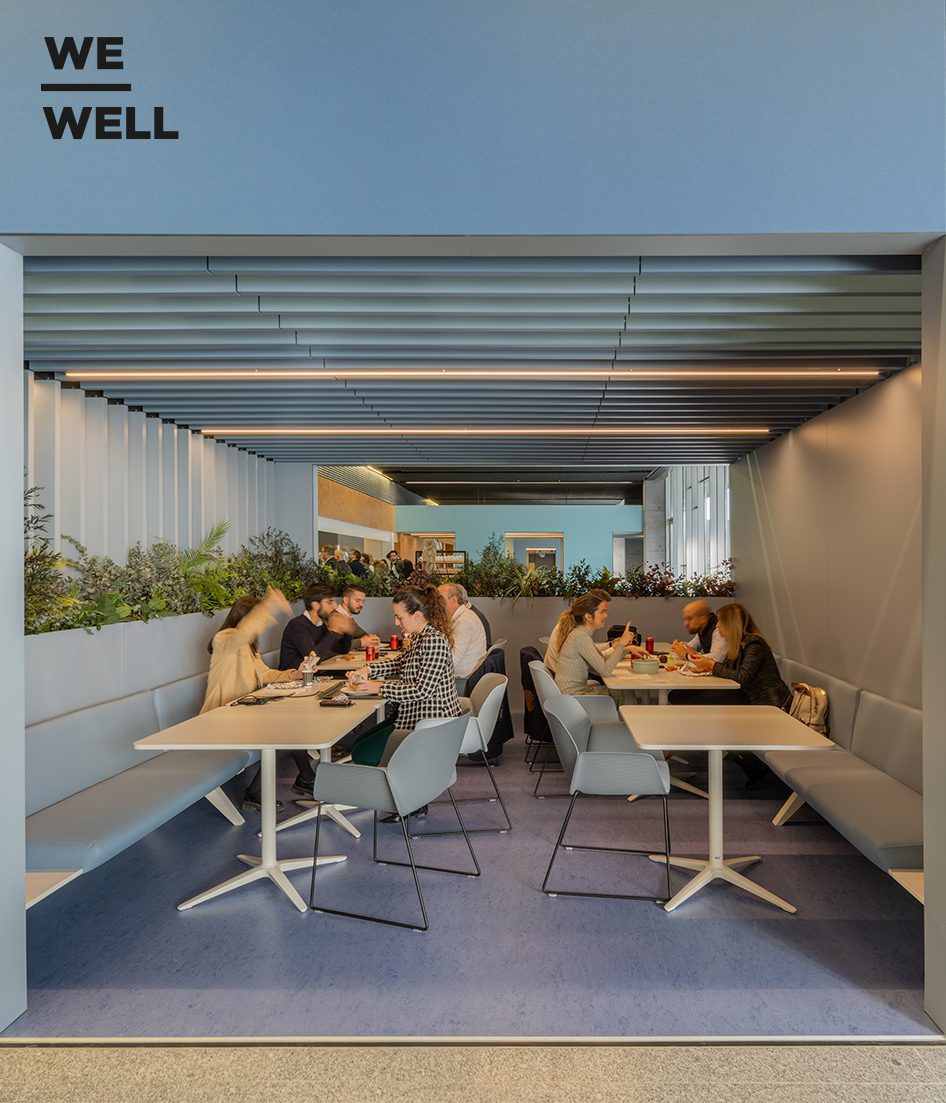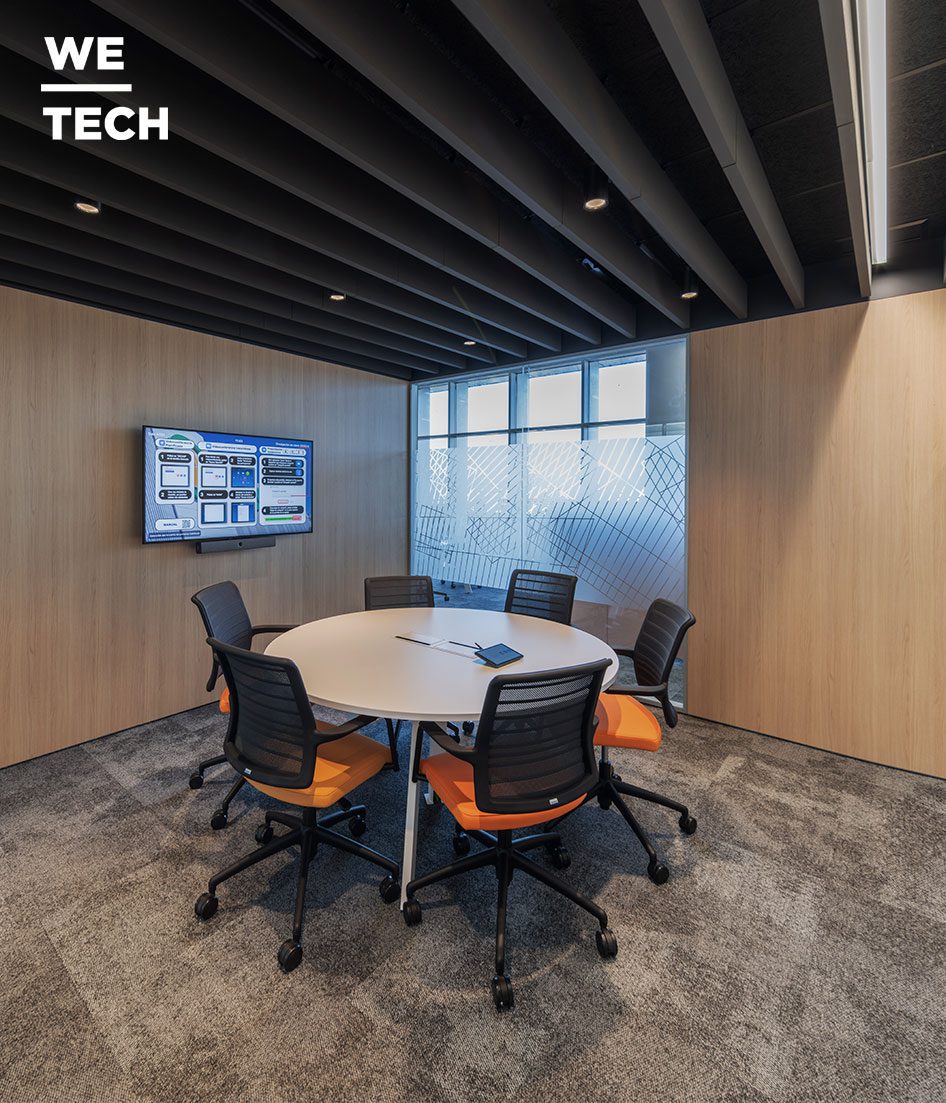 TECHNOLOGY
We implement the necessary technology to help companies adapt to a new reality of hybrid work in which it is essential to make an agile, flexible and efficient use of space.
Technology automates processes, optimizes operational efficiency and saves time and resources through specialized digital tools. It also helps us to better understand people and adapt our approaches by providing valuable insights into human behavior.
At the same time, business innovation is boosted by enabling the development of new products, services and business models. Companies that embrace emerging technologies and follow technology trends gain a competitive advantage.
Technological solutions provide a faster, more personalized and satisfying service, improving customer experience and fostering loyalty, being a fundamental tool for efficiency, communication, innovation and customer experience in today's business environment.
We design spaces to be able to adapt them to new technological advances and be prepared for the challenges of the digital future.
TRANSFORM YOUR WORKPLACE
ERRE arquitectura has become a leader in the office design sector thanks to more than 25 years of experience in office space design and corporate projects.
We have developed more than 120,000 square meters in office design projects, which has allowed us to create our WORKPLACE ERRE system, based on three key aspects: flexibility, comfort and technology.
We analyze the occupancy and mobility scenarios of each profile, creating an ecosystem of flexible spaces, adapted to the needs of each company, adapting to new ways of working and encouraging collaboration and creativity.
We generate a comfortable and healthy environment that contributes to the job satisfaction and well-being of our employees.
In addition, we implement the necessary technology to adapt to hybrid work and optimize operational efficiency, designing spaces prepared for the challenges of the digital future.
WORKPLACE ERRE is a system developed through a collaborative work methodology that allows us to reduce costs, unforeseen events and execution deadlines. All this improving communication with the client and obtaining the best possible project.
ARE YOU INTERESTED IN THIS SERVICE?