En construcción: Roig Arena (IV)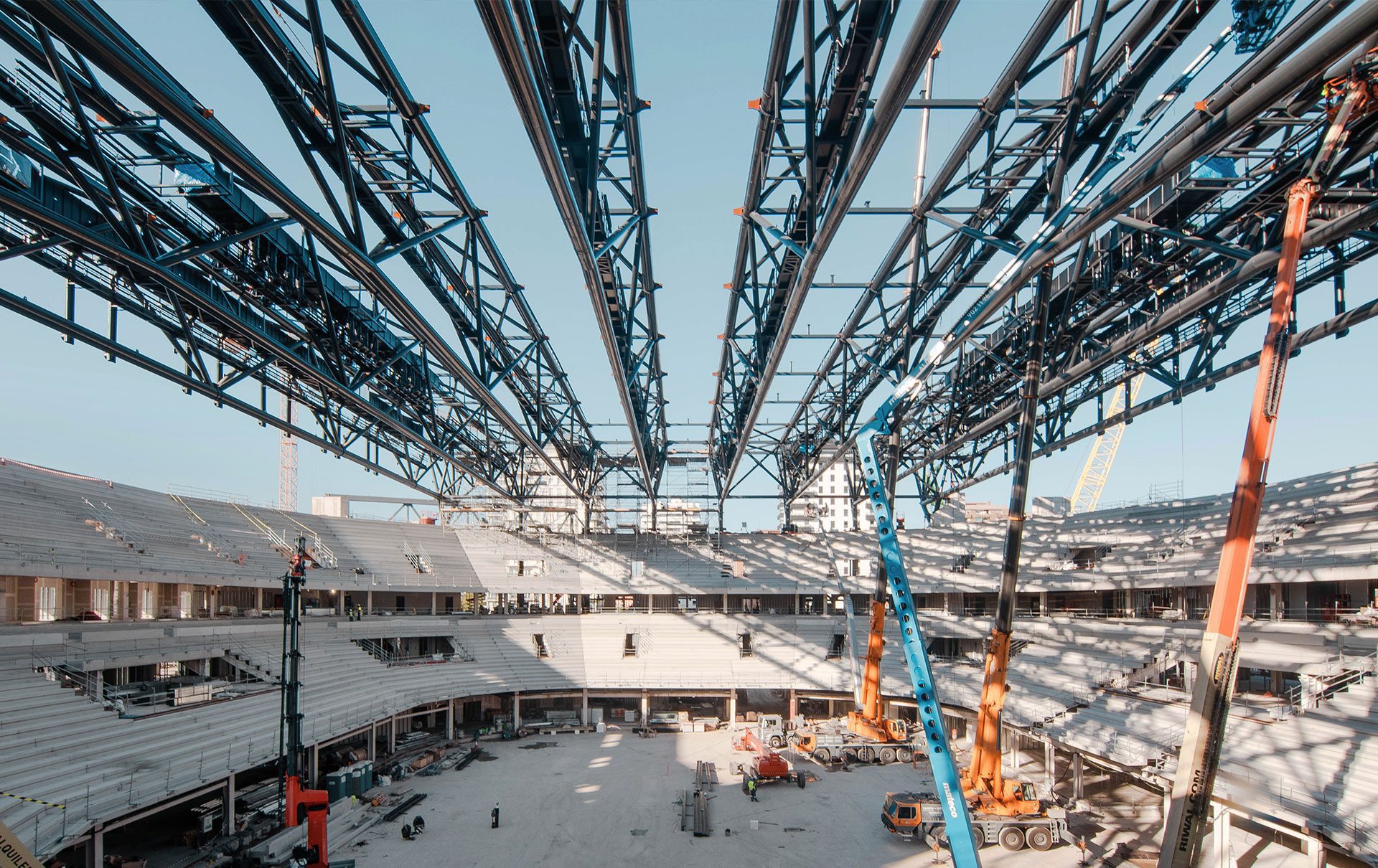 2,900 TONNES OF STEEL TO COVER THE FUTURE ROIG ARENA
The Roig Arena continues to advance!
As we told you in the last news item, the first 4 trusses of the structure that will support the roof of the Roig Arena were installed in July.
Now, two months later, the last 4 trusses have been installed, thus completing the hoisting of the 8 trusses that will support the roof with the installation of the last one on Wednesday 27 September. In addition, the installation of all the stands has been completed.
The technical team of ERRE arquitectura has had the opportunity to follow the assembly process of the beams closely.
A work of maximum precision that has been possible thanks to a great team of professionals such as Industrias Metálicas Anro.
At ERRE we continue to work with great enthusiasm to finish the work on schedule and offer Valencia Basket and the city of Valencia a new world-class arena.
A CITY PROJECT
The Roig Arena project, a personal initiative of Juan Roig and the result of a public-private partnership, is located on the streets of Ángel Villena, Bomber Ramon Duart and Antonio Ferrandis (next to the L' Alqueria del Basket and the Pavelló Font de San Lluís) and will occupy a total built area of around 47,000 square metres, with a maximum capacity of 15,600 spectators for basketball and 18,600 for concerts.
In addition, the project includes the construction of complementary infrastructures that will make the area more dynamic, such as the recently inaugurated new public school "Les Arts", about which we have reported in the past, a public park and an underground car park with around 1,300 spaces.
For more information on the project, visit the official website of the ROIG ARENA: https://roigarena.com