Mercadona Headquarters. Phase II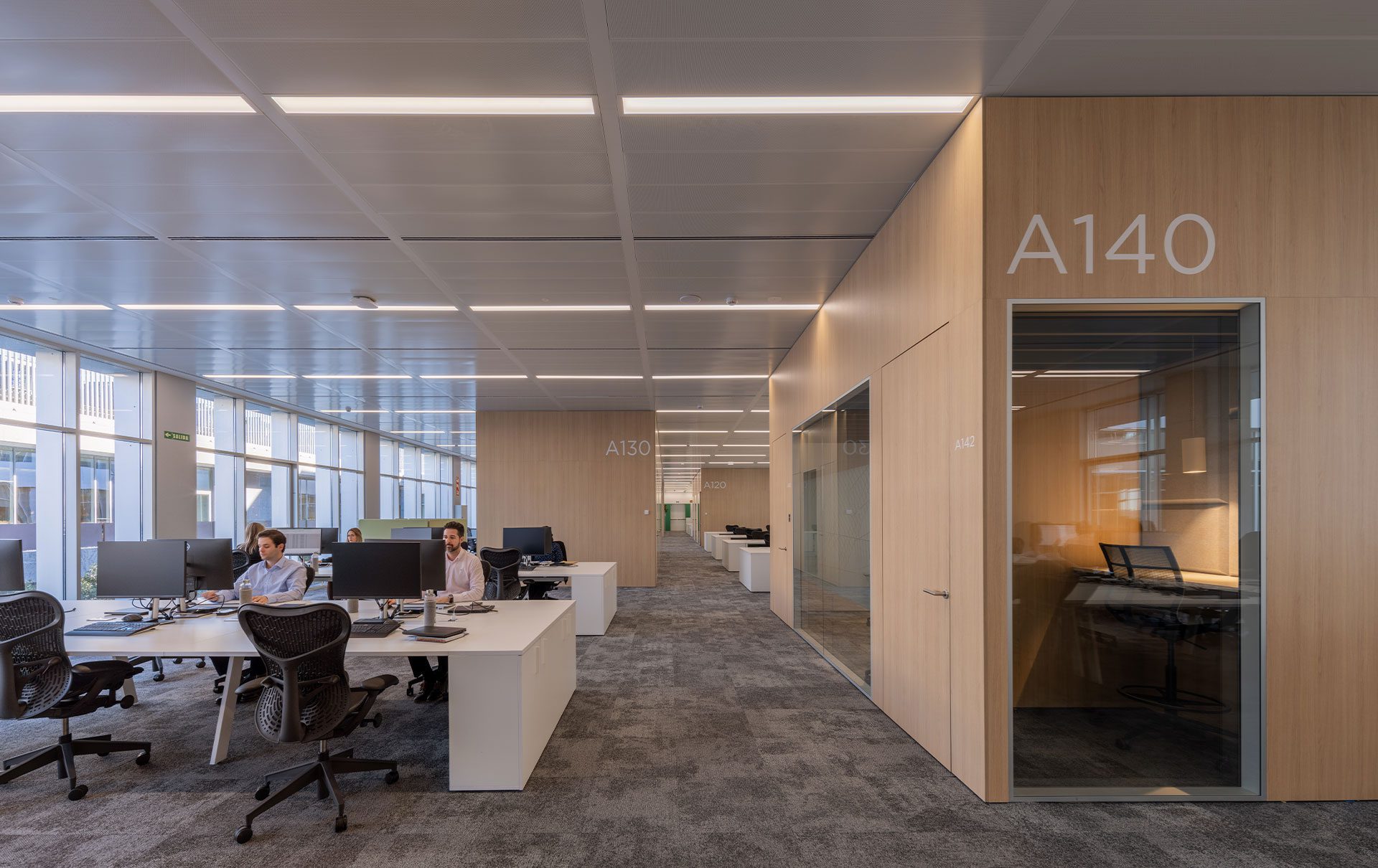 80,000 SQUARE METRES OF OFFICE SPACE TO PHYSICALLY AND CULTURALLY TRANSFORM ONE OF SPAIN'S MOST POWERFUL COMPANIES.
Client
Mercadona is one of the leading physical and online supermarkets in Spain. Founded in 1977 by the Cárnicas Roig Group, it currently has 1,628 stores throughout Spain and 42 in Portugal, with 99,000 employees dedicated to excellence, 3,500 of them in Portugal.
Challenge
How to create a more sustainable and collaborative workspace for 2,600 people? How to manage the process of physical and cultural transformation of one of the largest companies in Spain? How to design a project that increases spatial flexibility and is able to adapt to the constant changes and challenges that this company faces?
STRATEGY
ACHIEVING MORE WITH LESS.
The project is based on its structure, which has been designed to create an open space 16 metres wide. This allows for an open, unconditional space that can be freely used and adapted to the needs of the company and its employees.
The entire project is made up of four parallel north-south blocks with a surface area of 35,000 m2. Beneath these blocks is a three-level underground car park of approximately 45,000 m2 with 1,300 parking spaces.
SUSTAINABILITY.
The project has provided an opportunity to implement passive sustainability strategies that will allow the company to optimise energy use by making the most of orientation and natural lighting.
For example, the new offices will have large landscaped internal courtyards and an east-west orientation, which not only maximises the use of sunlight and reduces electricity consumption, but also provides greater comfort for users.
Priority has been given to the use of locally produced materials, i.e. zero miles, which reduces the carbon footprint. In the same vein, the new offices are air-conditioned using aerothermal energy, the project includes an installation of 380 photovoltaic panels and an intelligent building management system to ensure the efficient and rational use of resources.
TECHNOLOGY.
Mercadona's offices are an opportunity to advance the digitalisation of the company, while at the same time promoting collaboration, creativity and the exchange of knowledge between the different parts of the process, favouring execution and agility in decision-making.
In addition, the building is equipped with innovative technological solutions, such as an agile wireless projection system for information sharing or the control of different spaces or services through a mobile application.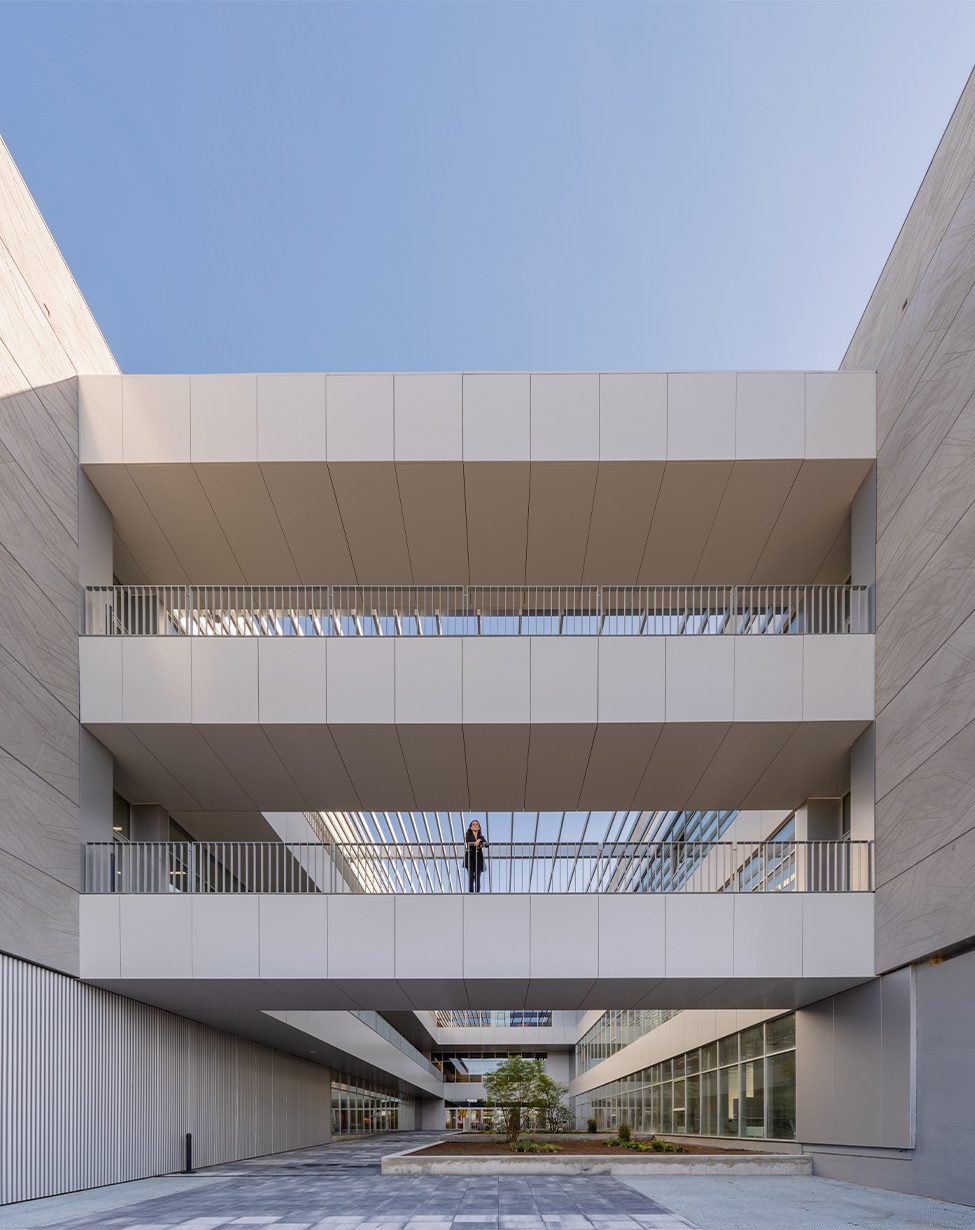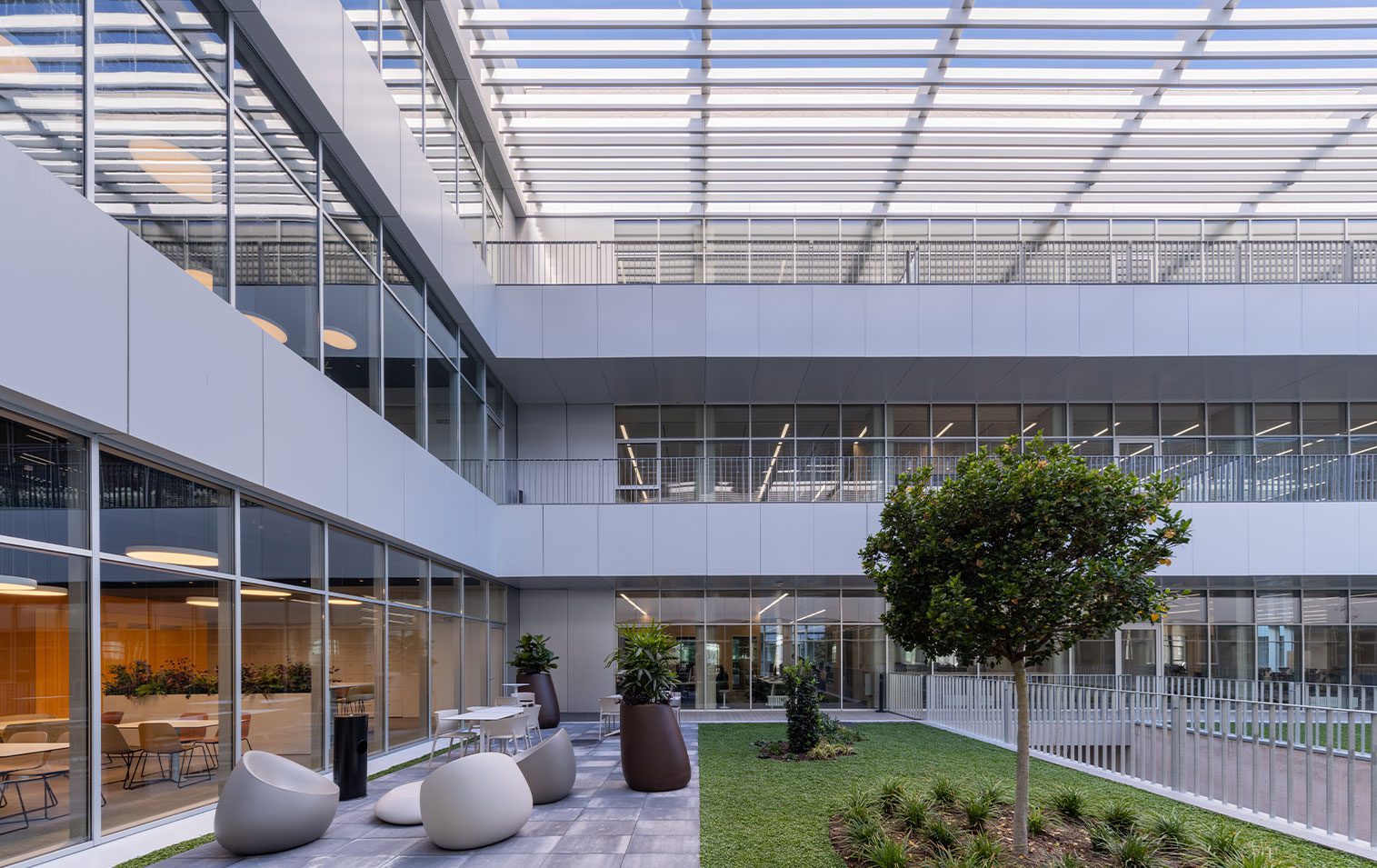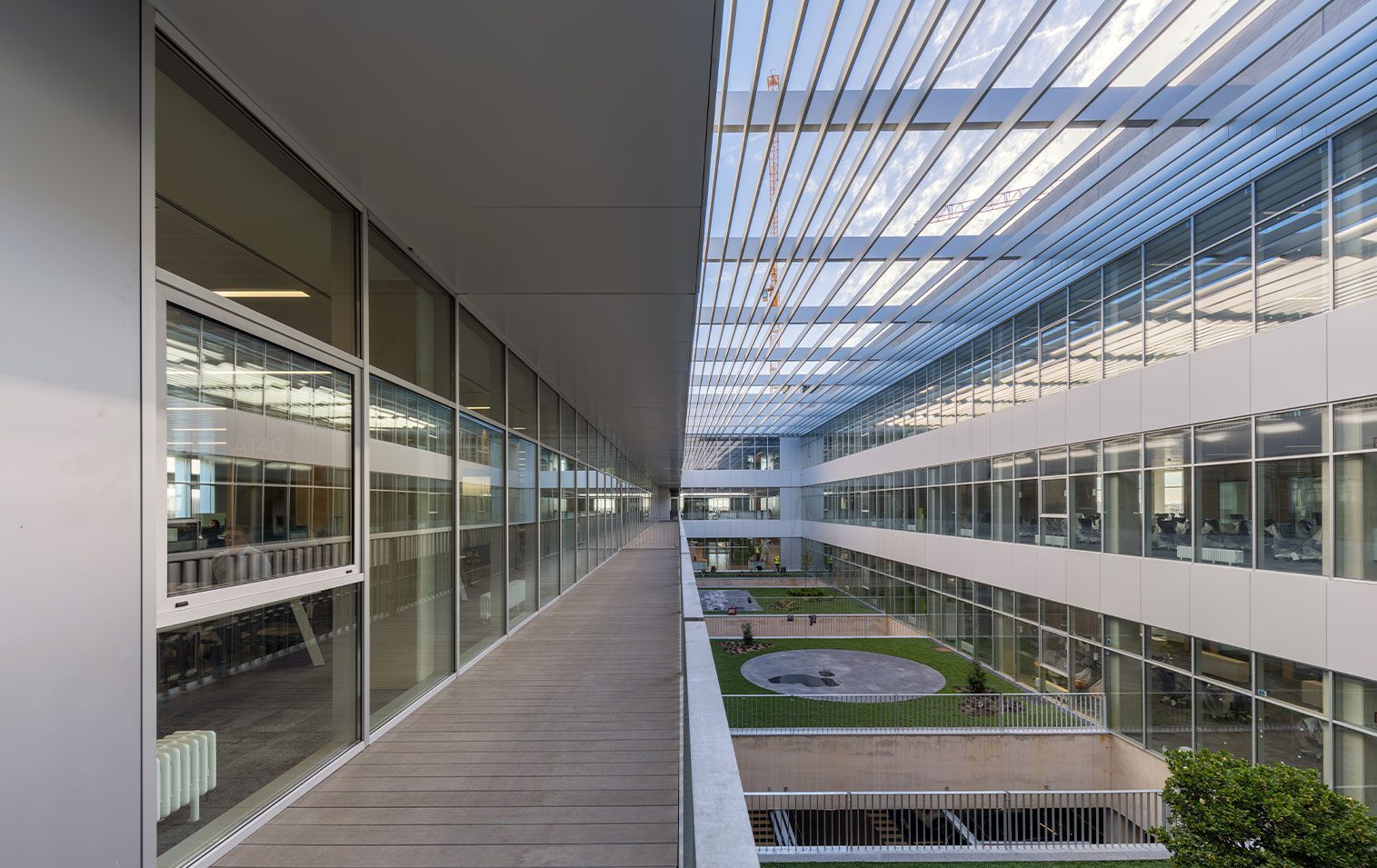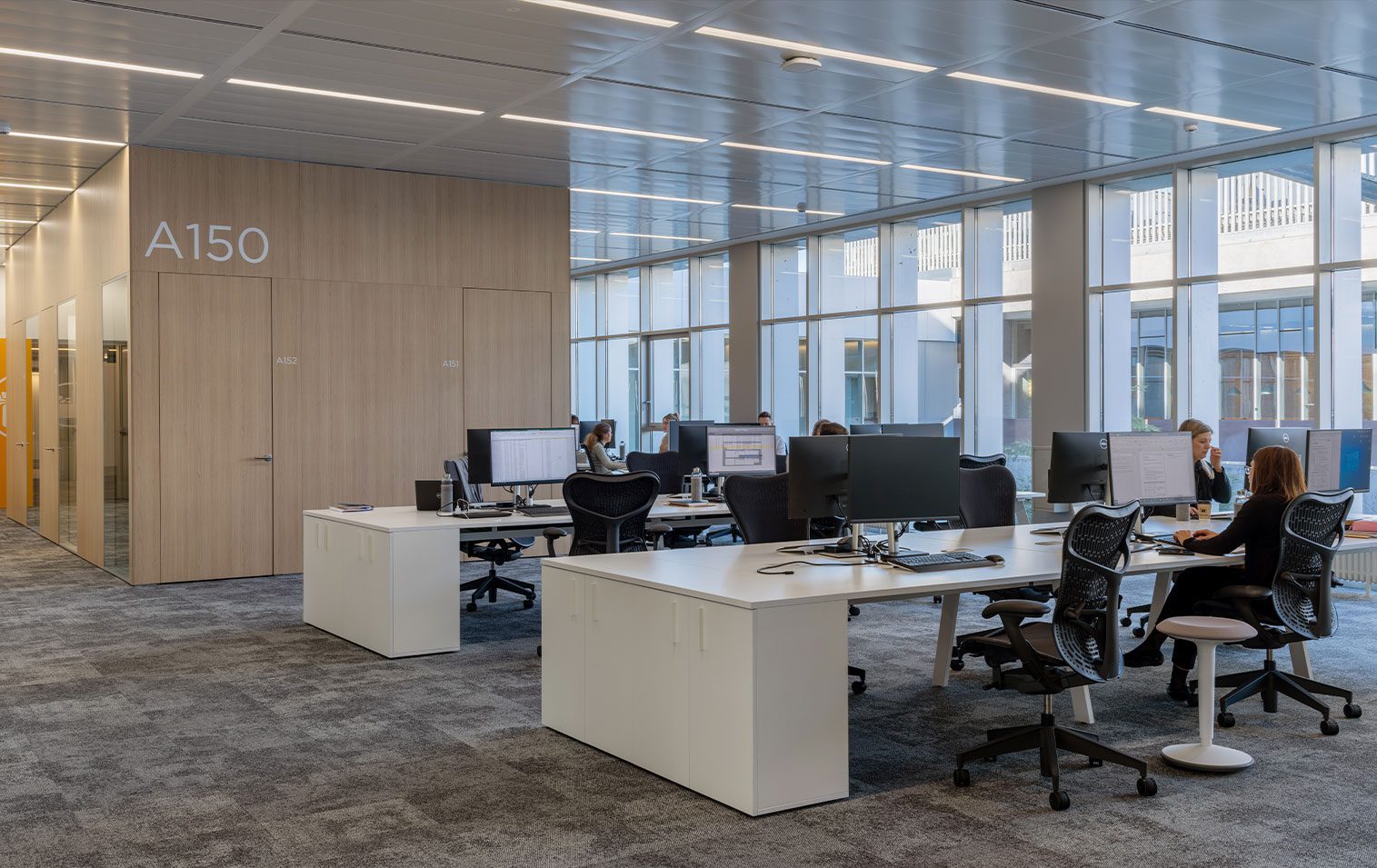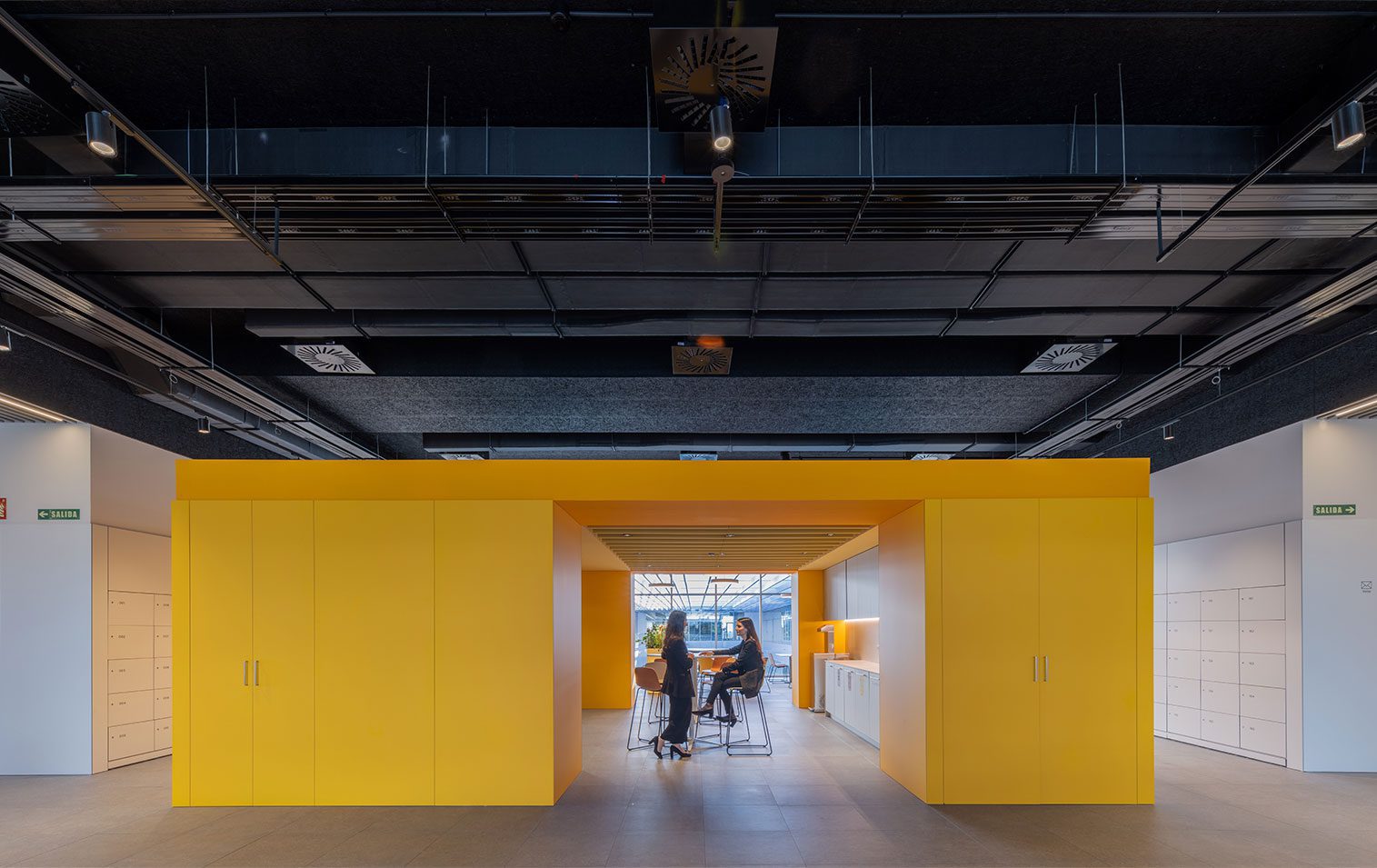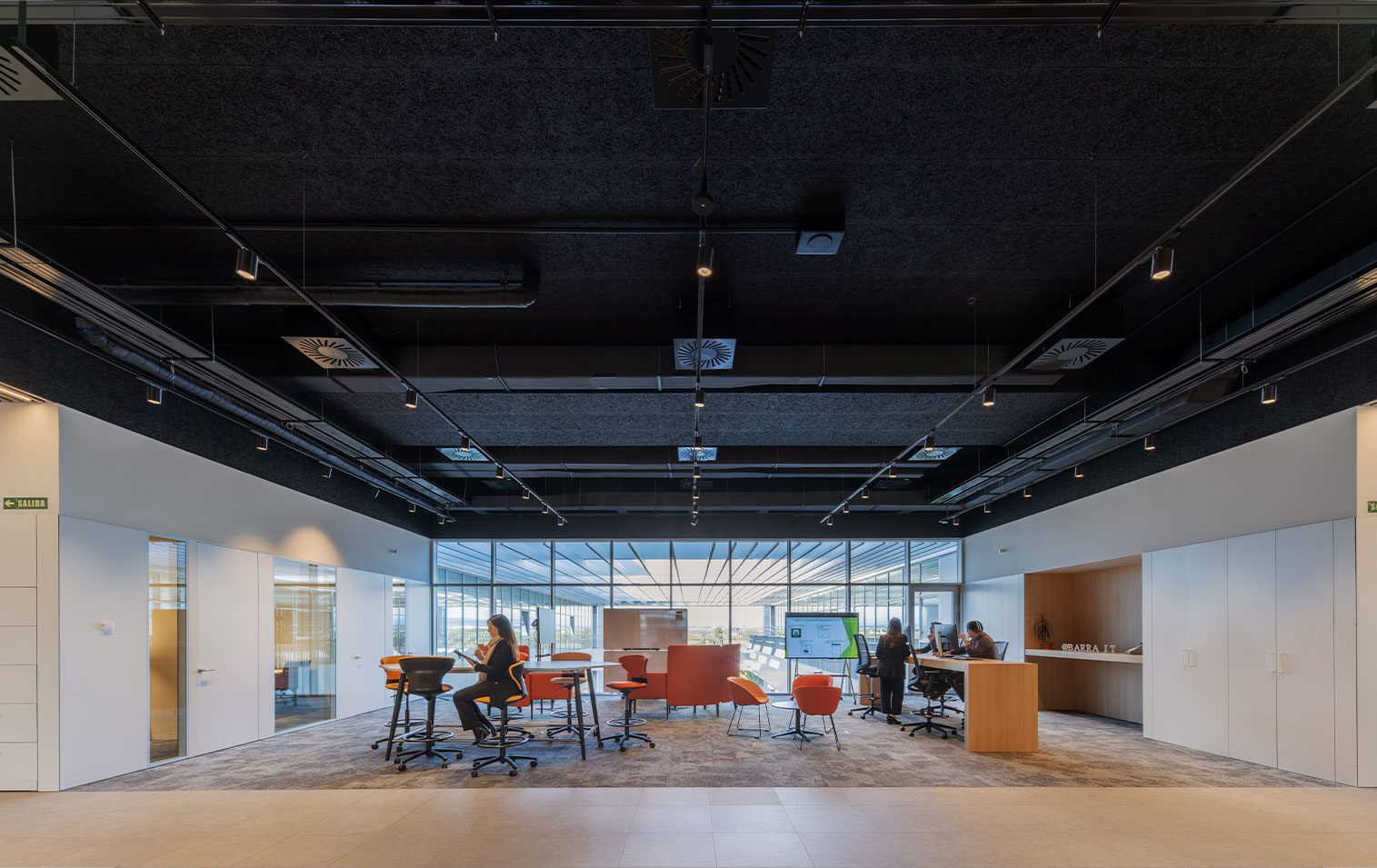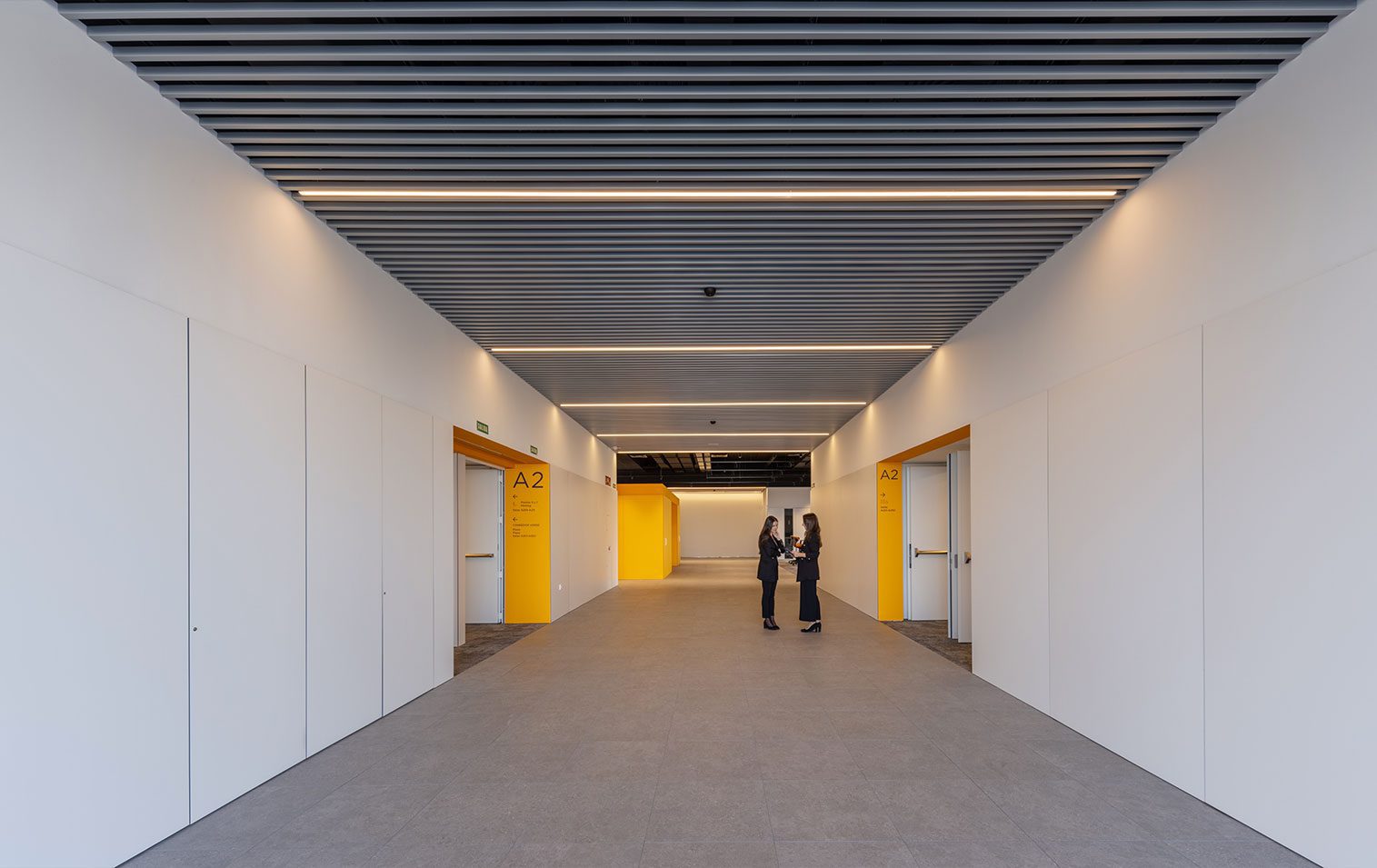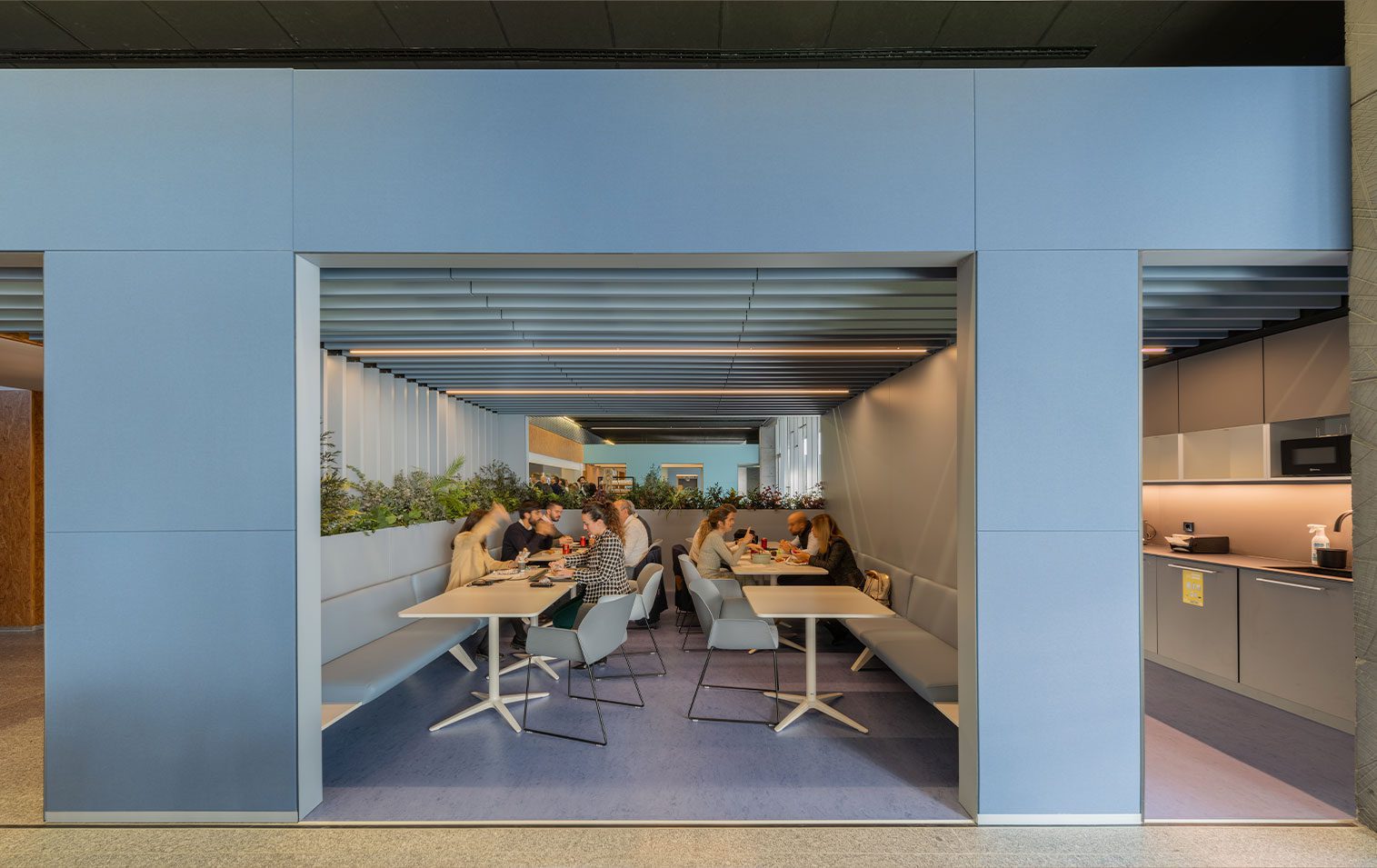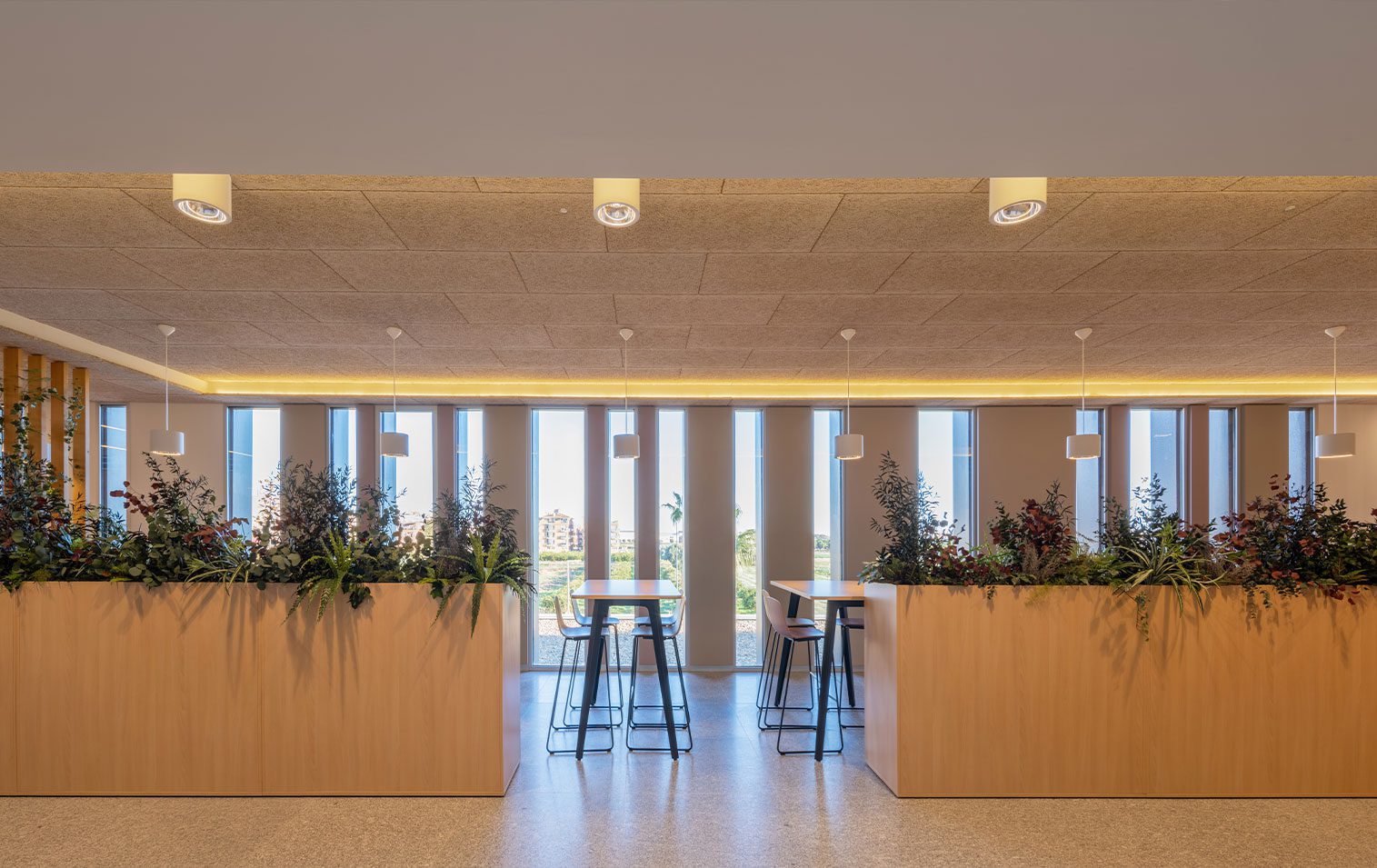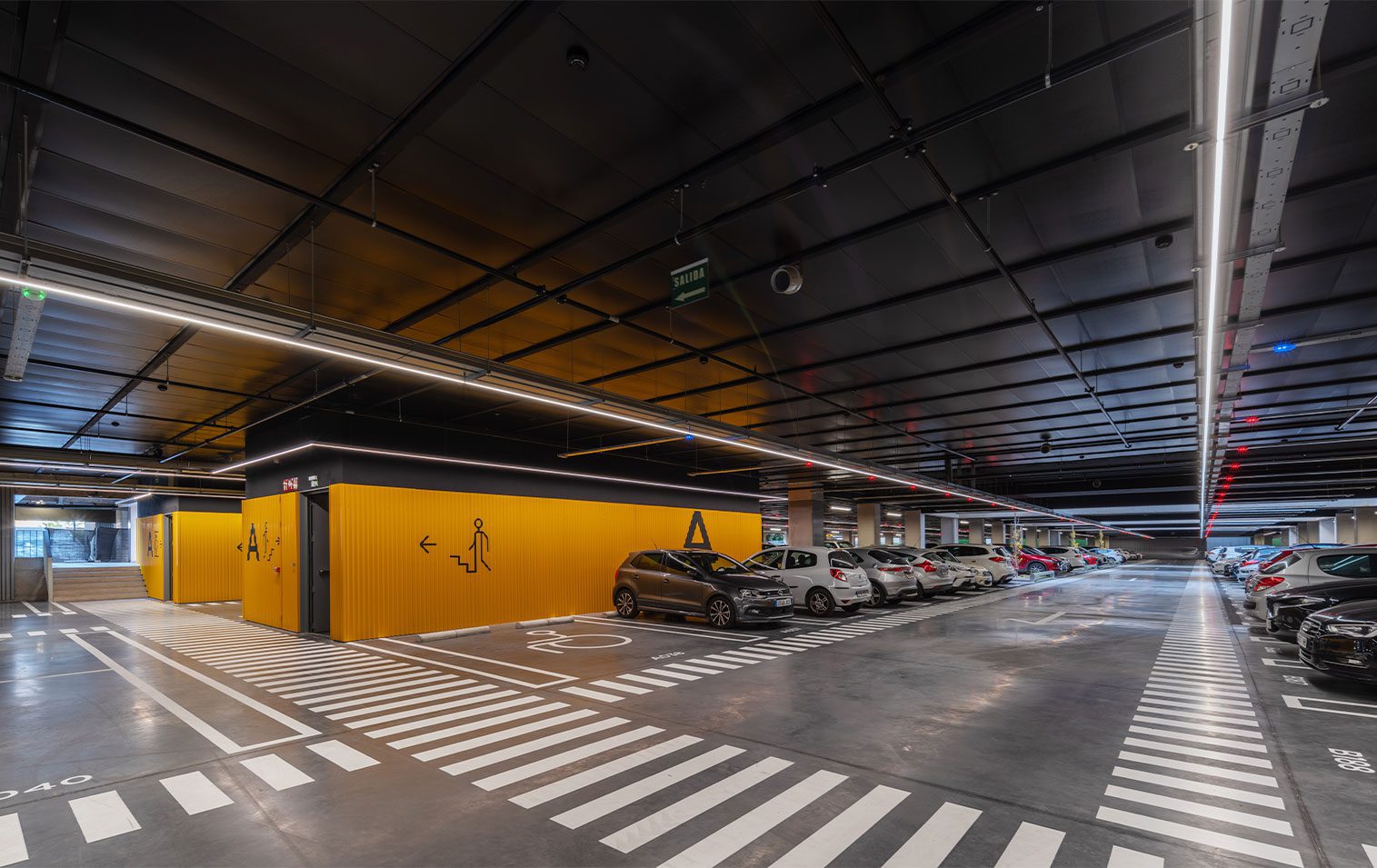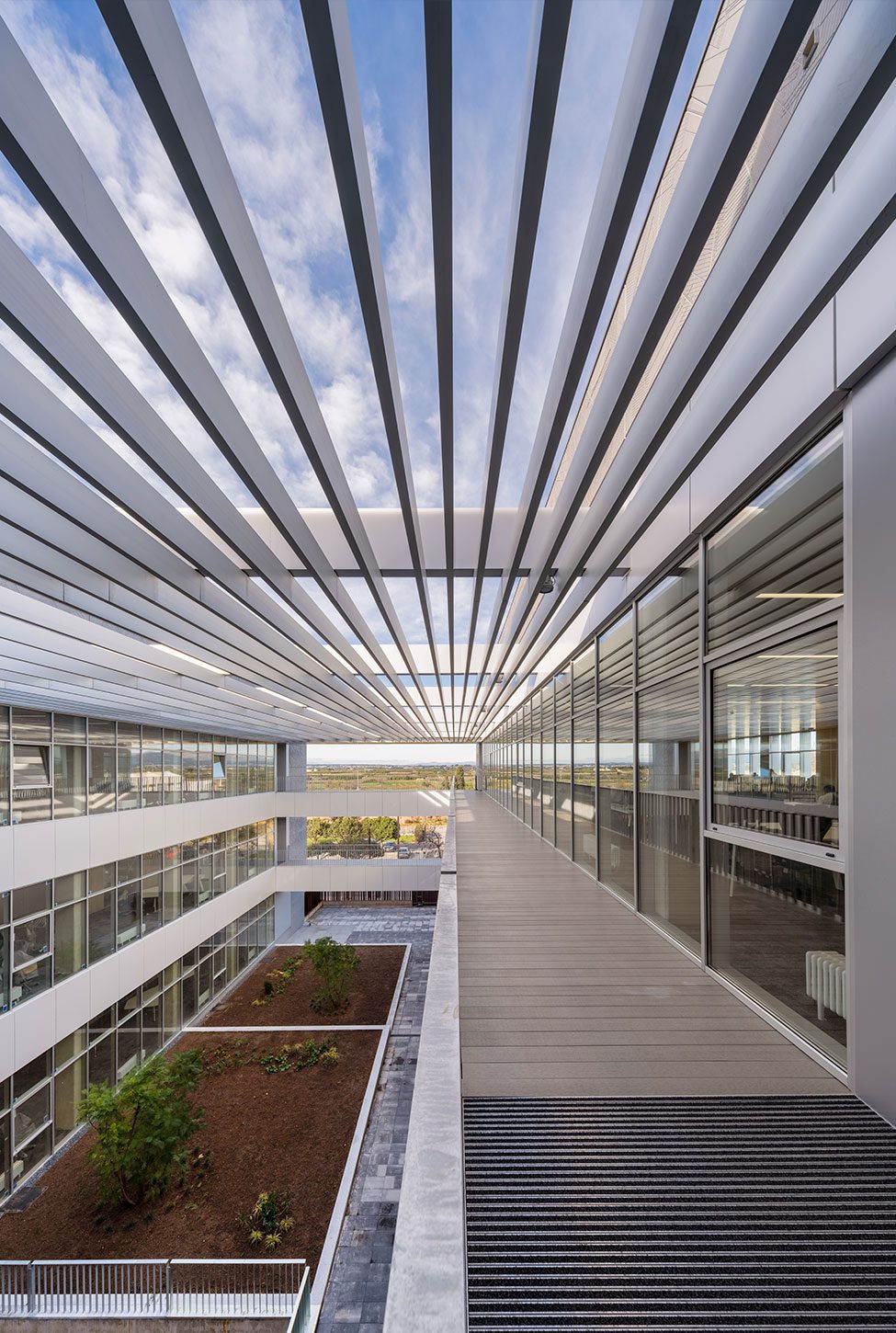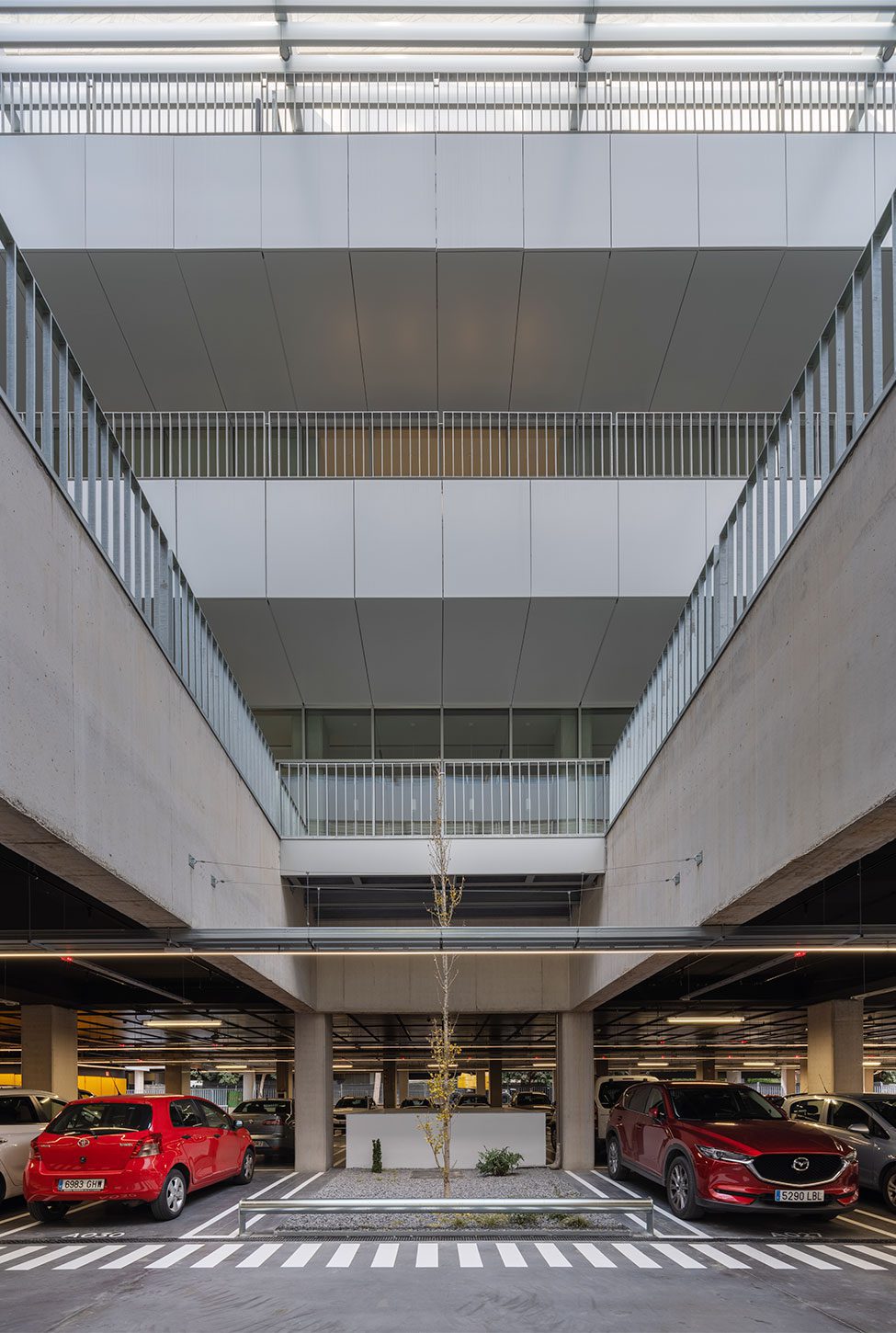 SOLUTION
ACTIVITY-BASED OFFICE.
The offices, which will accommodate the activities of around 2,600 people, are based on the application of the "activity-based office" model, which aims to break with the system of isolated and independent departments and implement an open, agile and flexible office concept.
The idea is to move away from working by department to working by "neighbourhood", areas where people share the same space regardless of the department to which they belong.
Up to 15 different types of environment have been designed, based on the needs and experience of employees, which they can choose according to their daily tasks. With this new physiognomy, we are moving away from the traditional office model towards open spaces that are much more collaborative and creative.
The communal areas, distributed throughout the building, act as squares or centres of gravity, promoting and enhancing interaction, communication and synergies between the different employees and departments.
Specialist supplier BICG was involved in defining the new way of working.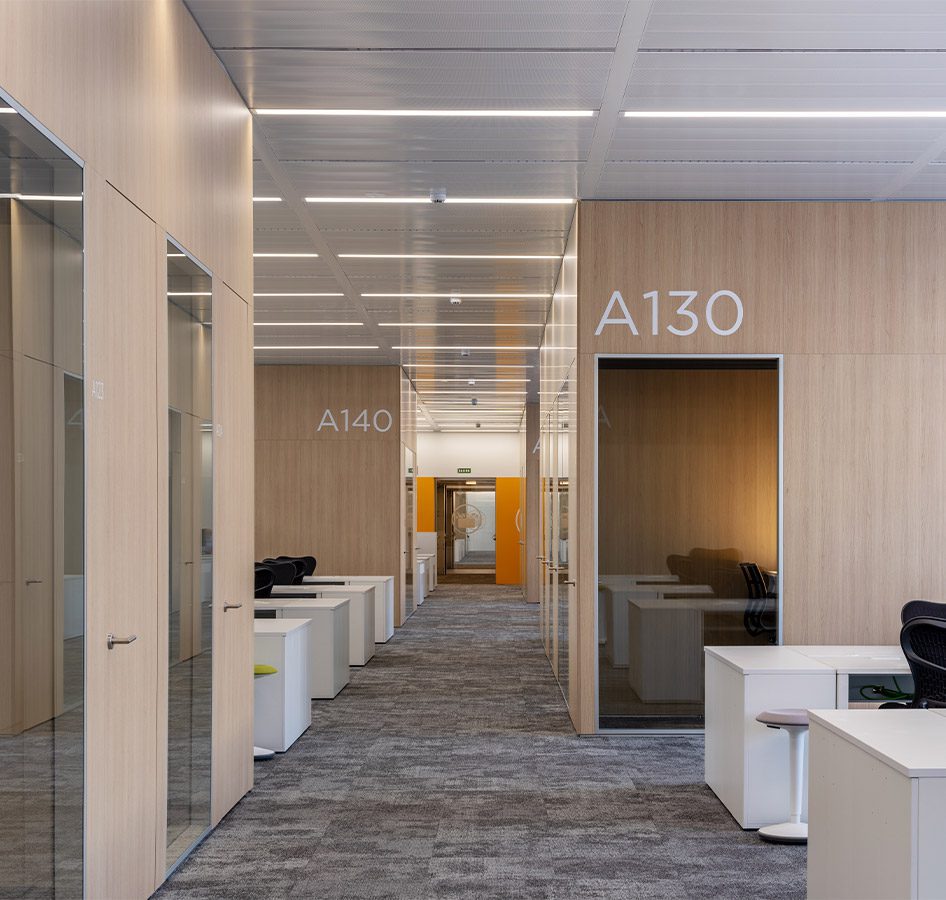 Location
ALBALAT DELS SORELLS. VALENCIA.
Status
Under construction