Under construction: Roig Arena (III)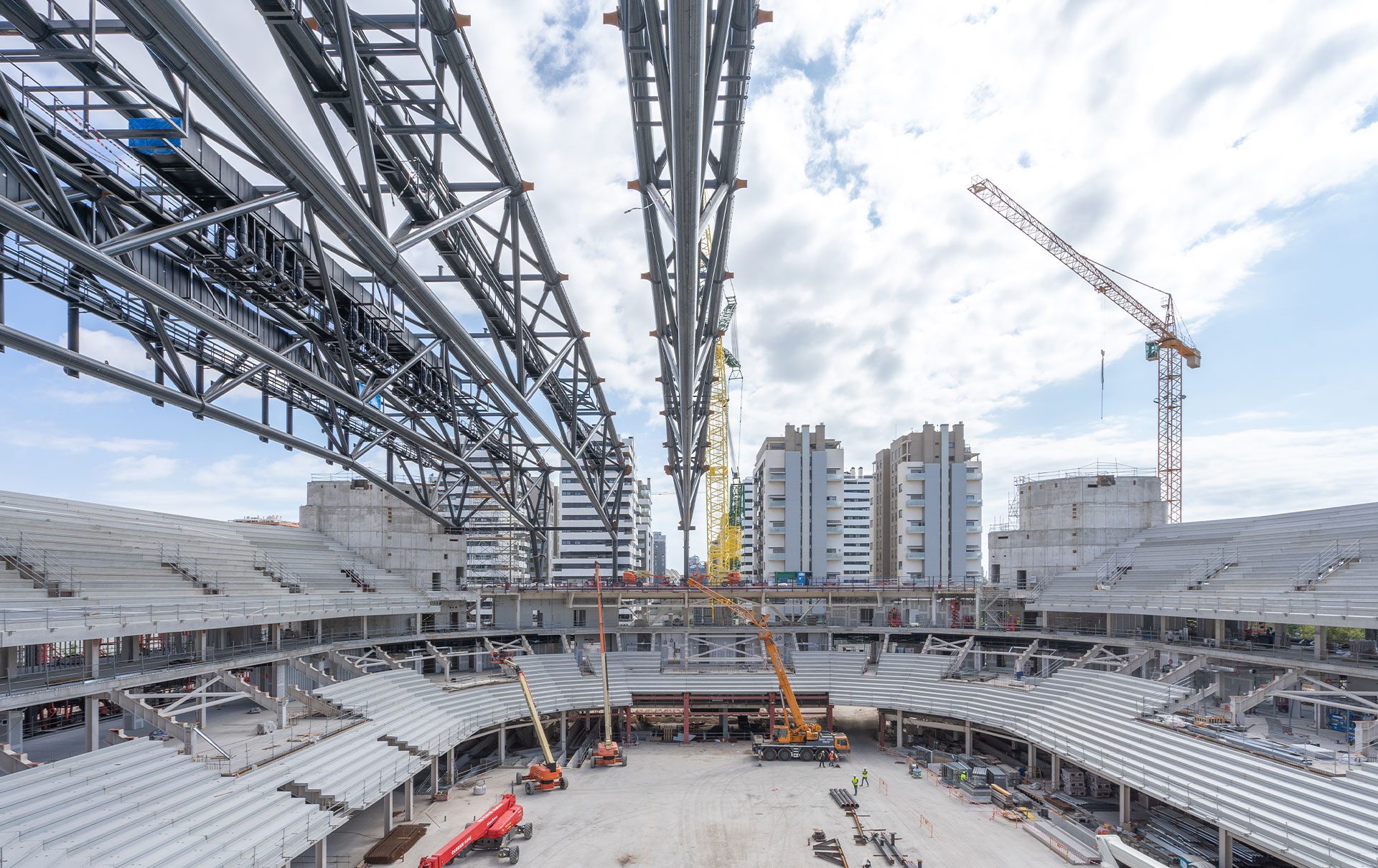 LATEST DEVELOPMENTS
The Roig Arena is making great progress. A few months ago we told you that work was underway on the metal structure that will give the stadium its external appearance and the stands, and since then the stands have almost been completed and the trusses that will support the roof have been assembled and are being lifted.
A NEW MILESTONE: THE LIFTING OF THE TRUSSES
In this new phase, the lifting of the trusses is a milestone in the construction of the Roig Arena and a technical challenge due to the size of the trusses, which have a span of 123 metres and an edge of 9 metres. They were assembled on site in the immediate vicinity of the pavilion over a period of two months, with between 300 and 450 tonnes of steel required to form each truss.
Once all the parts were assembled and the trusses were ready, two large cranes were used to lift the trusses over the stands. This operation, the lifting of the trusses, will take a few weeks. As a curiosity, it is worth noting that the cranes were brought in pieces due to their size and that the base of the cranes is about 100 square metres.
A CITY PROJECT
The Roig Arena project, a personal initiative of Juan Roig and the result of a public-private partnership, is located on the streets of Ángel Villena, Bomber Ramon Duart and Antonio Ferrandis (next to the L' Alqueria del Basket and the Pavelló Font de San Lluís) and will occupy a total built area of around 47,000 square metres, with a maximum capacity of 15,600 spectators for basketball and 18,600 for concerts.
In addition, the project includes the construction of complementary infrastructures that will make the area more dynamic, such as the recently inaugurated new public school "Les Arts", about which we have reported in the past, a public park and an underground car park with around 1,300 spaces.
For more information on the project, visit the official website of the ROIG ARENA: https://roigarena.com